So my new powerbook is on the way. I've already got a buyer for the old one. With the hardware discount I get from ADC, I'm paying almost nothing to upgrade, which is nice. But the ordering process has proved one irrefutable fact: Airborne Express sucks!
To make sure I'd get it before the weekend, I payed the extra $10 to get it shipped 2-day. Apple shipped my powerbook on the 22nd, apparently from Taipei, Taiwan. It came air to the US, and then Airborne Express picked it up. I called them to make sure it was coming today, since they don't have anything on their tracking page, and Airborne Express apparently didn't count the shipping date until they picked it up in the US! Both Apple and Airborne Express show it leaving Taipei on the 22nd.
Check it out, here are the invoice and the tracking page: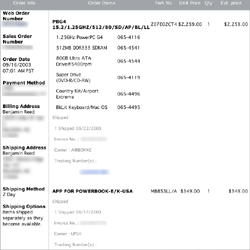 While I will get it before the weekend, I'm still pissed. How does the 25th translate into 2 days?!?
Share on Facebook