...I'm now Mr. Benjamin Reed.
Er, waitaminute... <grin>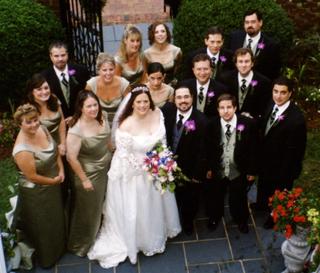 On October 7th, I married Cynthia Fulbright at the Longview Center in downtown Raleigh. We had our reception at the Matthews House in Cary. We honeymooned in Scotland. (It was awesome!)
It was an incredible ceremony, we got a ton of compliments on it, which means a lot since we put it together ourselves. Cynthia was stunning. I'm glad we did the "you can't see her in the dress until the wedding day" thing, it was wonderful seeing her dressed up like a princess, coming down the aisle. We both smiled the whole time (I'm told I "grinned like an idiot"), and while I was nervous before everything started, once we were up there it was like it was just the two of us and the rest of the world didn't exist anymore.
Cynthia, I love you, and I can't be happier to spend the rest of my life with you!
We've put up a web site for the wedding, although it doesn't have much on it yet. The goal is to have the ceremony as well as photos of everything from the rehearsal to the honeymoon (no, not those photos), but it will take a while, we took over 1500 pictures in Scotland. We're getting there. 🙂
Thanks to everyone who's wished us well, and to those of you who were able to come to the wedding!
Share on Facebook