In Memoriam, Puff Reed, 1986-2004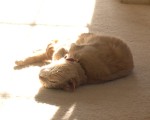 Shortly after I'd moved in with my buddy Larry, I took my cat in for a check-up, and found out that she was in renal (kidney) failure. It's treatable (for a time, anyways) with saline injections under the skin. For almost a year I'd been taking her in to get that done, and she'd responded to it just fine -- she was her usual self, attacking my roommate's cats and everything. (Yes, my 6-pound, tiny grandmother of a cat kept Larry's much younger and twice-to-nearly-three-times-as-large cats at bay.)
Recently, though, she just hadn't been herself; she wasn't active at all, her eyes were weepy pretty regularly, and she just plain didn't look very happy anymore. Today I had to take my companion of 18 years to the vet to be put to sleep. She'd been with me for almost 2/3rds of my life, it's going to be hard to imagine her not being around.
She was a good cat, and a great companion. She was always spunky and active, but loved being a lap cat, too. She was one of the few cats I knew that would (almost) always come when you called. She'd been there for me since I moved with my mother, away from my dad and stepmom and friends in Wisconsin, and she'd been there for all of the major things that have happened in my life since then. She'd been with me through many moves, roommates, and a fateful run-in with a cat that gave her a little notch on her ear. She always held up well through changes, and was always a comforting constant even when everything else was in flux.
She will always be missed. I can at least take comfort that she went peacefully.
P.S.: The title of this post is a reference to Coach Z saying "Three cheers for the Chort!" Larry would sometimes say "Three cheers for the Porf!" when he saw Puff walk into the room.
Share on Facebook